We've been experimenting with different mediums over the last few weeks at college, trying everything from pencil to markers, pastels to paint. Two of the more expressive mediums are watercolour paint and ink. Here are a few of my recent sketches:
These two illustrations are done in watercolour, i had a lot of fun with the flowing red dress and hair on the left, and the sheer fabric on the right. I struggle a little with letting go of detail and loosening up my lines, but when I force myself I'm usually pleased with the result.
These four were done the week after the watercolours. I used black Indian ink, a strong expressive medium that dries waterproof (both useful and frustrating).
The first three illustrations feature coats with bold shapes and strong shadows. I love the minimalist look of the second sketch, and the depth I achieved in the coat opening, an example of less being more.
The same goes for the final illustration, my favourite from this set, where I haven't overworked it - pure force of will to stop myself adding too much detail!
The first and third were more experimental, with bold lines and expressive splashes (I had a lot of fun with those!)

I stepped out of my comfort zone with these a little, though thoroughly enjoyed it (for the most part). Always good to stretch yourself... love feedback as always.

Meg x
Powered by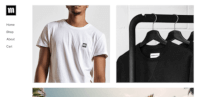 Create your own unique website with customizable templates.