The 2015 Grammy Awards were on a few weeks ago, and these were my red carpet favourites:
Iggy Azalea. The Australian rapper wore an electric blue dress that featured cutouts at the waist and shoulders and a sheer section in the skirt.

I felt the design, with its short sleeves and v-neck, really flattered her figure, particularly her shoulders and torso.

She styled her hair in a laurel-wreath-esque braid which had potential but I feel didn't do her justice. Full marks on the dress though.

Gwen Stefani wore a jumpsuit by Atelier Versace that had an amazing, architectural bodice that snaked over her bust in a curving cage formation, the lattice revealing a little skin while showing amazing structural craftsmanship.
It had volume at the top of the leg before tapering to a flattering length just above her ankles.

She had glittering pointed pumps and wore her white-blond hair swished back in casual elegance.

Taylor Swift was my (and many others') absolute favourite of the night.

She wore an incredible turquoise ombré dress by Elie Saab, it fit her perfectly and showed off her long legs through the opening at the front, maintaining modesty with the internal mini skirt.

I LOVED the little straps on the side of the main bodice piece that broke up the strong pattern, a perfect addition.

To go with her lightly shimmering gown Taylor wore fantastic magenta heels that provided the perfect colour contrast.

She's rocking her short hair too, styling it in light, shining waves.


I don't think that Jhené Aiko received enough credit for her Alberta Ferretti ensemble.

The flowing blush pink gown's embellished bodice (which makes me think of flower petals or skeleton leaves) nipped in perfectly to show off her waist and was incredibly flattering.

Everything about the dress worked for her, and was lovely and feminine.

(She liked the sketch on Instagram!)

Anna Kendrick put a sexy edge to the classic pantsuit, showing some cleavage with the deep v-neck of her blazer.

The cut and length of both blazer and trousers suited her perfectly, and didn't look the slightest bit corporate.

She finished off the simple, classic look with pointed pumps and flowing curls.

These were my picks of the night, a mix of classic, contemporary and colourful.
you may note that Rihanna and her fabulous hot pink Giambattista Valli Dress are not present, while she was the centre of much praise and attention, and despite loving the colour of her dress, I couldn't get over the cup-cake-y-ness of the gown, though if anyone could pull it off, its Rihanna.
As usual please feel free to leave any feedback below, and look out for my Oscar favourites coming soon!

Meg x
Powered by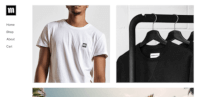 Create your own unique website with customizable templates.